The Story Behind Nerni and Friends
Hi, I'm a PhD Bioengineer and robot repair guy for my day job. I created Nerni and Friends as bedtime stories to entertain my daughters. Over the years, we've made up many stories together. I wrote down and illustrated our favorites so my wife could read them to the kids when I had to be out of town.
My ulterior motive, however, is to tell entertaining stories that get kids interested in science and engineering.
Nerni Invents Clock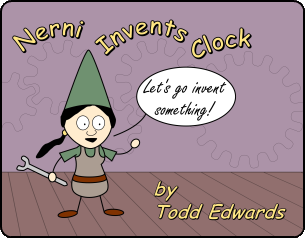 Nerni the gnome loves to invent things, but when she invents an intelligent clock, things don't go according to plan! Nerni Invents Clock is a picture book designed to be read to 0-4 year olds.

Nerni's Ingenious Inventions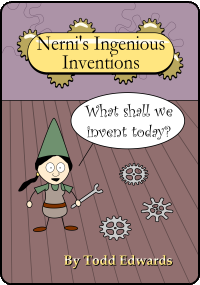 When you run into problems, sometimes the best solution is an invention. Join Nerni and her friends on four exciting adventures, and discover her innovative solutions to their troubles. Nerni's Ingenious Inventions is a collection of stand-alone stories with about half words and half pictures. It is great for reading to your 2-5 year old or for early readers (1st or 2nd graders) to read on their own.

Nerni's Fantastic Friends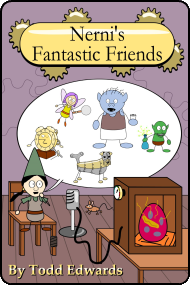 Nerni the gnome is back using science and engineering to solve a problem. This time, Higgins the dwarf and Piki Wiki the fairy have adventures of their own. Spark your child's interest in Science, Technology, Engineering, and Math (STEM) with Nerni and Friends. This book is great for reading to kids 2 years old and up, or for independent readers (2nd - 3rd graders) to read on their own.

Read The Latest News From The Magic Forest

"Author Todd Edwards: for his dedication to promoting science and creativity through his children's books." Read our review of his first book